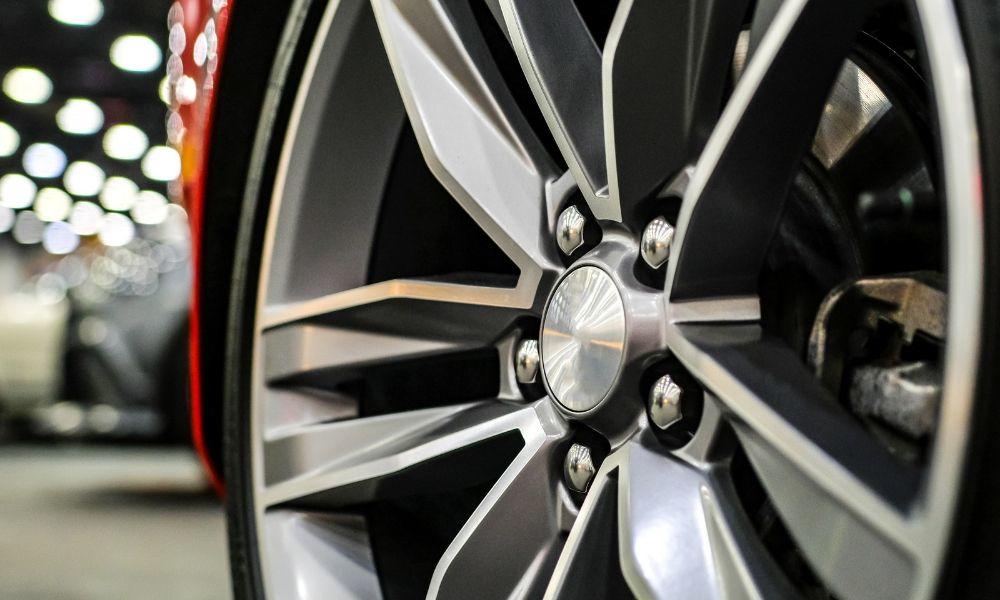 Sometimes, we forget how far we've come throughout history. One major component of human history is the invention of the wheel, which is arguably one of the most important inventions of all time. It's hard to believe there was once a time when this simple mechanism didn't exist, but it's now an instrumental part of our everyday lives. In fact, per AAA NewsRoom, "American drivers spend an average of more than 17,600 minutes behind the wheel each year… It's clear that traveling by car remains a central part of Americans' lives."
Because wheels are so important, you should know about all the different types of wheels and their various components, which is why we've created a guide to help you. We have also included some helpful information about the add-ons you can use to customize your vehicle to display your personality.
Parts of the Wheel
Before we get into the types of wheels, you should familiarize yourself with the various components of the wheel, which include three main parts: the tire, the rim, and the hub. The tire, which is the width of the wheel, goes around the rim and gives the wheel grip on the road surface. The hub is where the wheel attaches to the axle of a car.
Types of Wheels
Steel
One type of wheel rims you can get are made from steel. In the past, steel rims were the standard for vehicle wheels, but today, wheel rims are made of numerous other materials. Steel wheel rims are known as one of the more affordable options, and they can also be more durable than other options such as alloy. The durability of steel wheels has to do with how much weight they can carry. Steel wheels are also less likely to face damage, and they work well in any weather element. Steel rims are definitely the best option if you have a heavier-duty vehicle.
The main way you can tell whether a wheel is made of steel is by its color. Steel rims are typically darker, which happens to make damage less noticeable.
Alloy
Vehicle owners can also choose alloy as an option for wheels. Alloy wheel rims are comprised of several different metals, but the primary metal used is aluminum, which makes them lighter than steel rims. Known as a more luxurious option for wheels, alloy wheel rims also feature unique-looking designs and finishes you can use to personalize your vehicle, including chrome or a painted, machined, or polished finish. These options allow alloy wheel rims to look more appealing aesthetically when compared to steel. However, they're more prone to curb rash and other potential damage.
Chrome
Chrome is another option for wheel rims. Chrome wheels are perfect for owners who are looking for something a bit flashier: they'll give your vehicle a look that allows it to stand out from the rest. This is due in part to the chrome's shiny finish, which can attract the eye from a mile away—this is why chrome wheel rims are generally used for sport and show cars. Like alloy wheel rims, however, chrome is easily damaged.
Wheel Sizes
When you're searching for new wheels, you have to be aware of the different sizes available, as different types of vehicles need different wheel sizes. Rims are typically measured by:
Diameter
Width
Bolt pattern
Offset min
Offset max
Hub bore min
Hub bore max
You should also keep in mind that the size of your wheels, as well as other factors such as your vehicle's make and model, will help you select the right tires for your wheels.
Wheel Brands
There's a wide variety of wheel brands out there, each of which produces different types of wheels. Click it Wheels offers some of the top brands within the industry, including American Muscle, 720Form and Phatfux wheels. The brand type is important because some brands cater to off-roading vehicles, while others may primarily produce wheels for trailers. The point is, you should make sure you're getting the right wheel for your model to ensure the best drive possible, outfitted for you.
Add-Ons
Spinners & Floaters
If you're interested in customizing your wheels, you have the option of several notable additions. The most popular options are spinners and floaters. A spinner is a piece of metal that's placed over the hub and which spins as the car moves. Spinners usually come in some sort of design, small or large, that gives the vehicle even more of an eye-catching look. A floater is another cool wheel add-on that can enhance the overall look of your vehicle. Similar to spinners, floaters go over the top of the wheel's hub, but they don't move like spinners do.
Color
You can do a lot to your vehicle to exhibit your personality, but one of the coolest modifications you can make to your wheel rims is changing the color. By adding color to your rims, you can give your vehicle even more flair on the road. Tire rims are commonly offered in a black or silver finish with a primary and secondary color, but switching to a vibrant color can give you the bold look you desire. For an even more eye-catching hue, you could also add LED lights to your wheels.
Protection
Many different elements can damage your costly wheels, which is why you'll want to know about some of the accessories that can help prevent the damage. One option you can invest in is a protective ring that goes around the wheel. This will not only keep your wheel rim clean, but also prevent rust and scratches. You can also get the protective ring in a wide variety of colors in order to either make it stand out from or blend in with the wheel.
The wheels might be the most important features of a vehicle next to the engine, which is why you need to invest in the highest-quality wheels possible. Choosing the correct type from all the different types of wheelwill not only determine your drive, but also keep you safe. Take advantage of this information and use it when you select a high-quality tire from Click it Wheels.